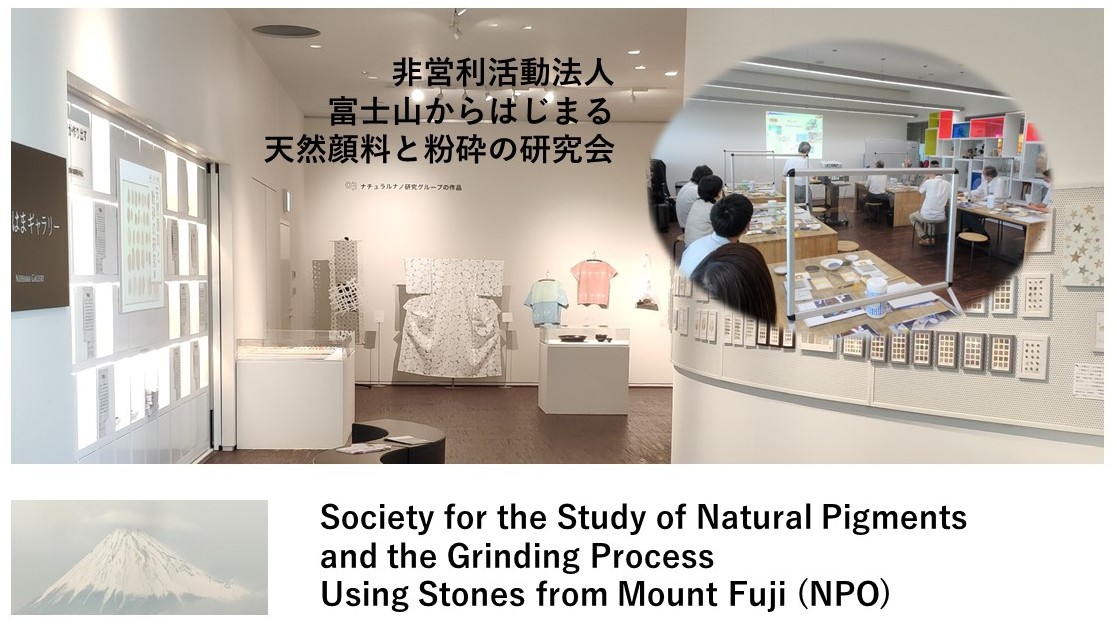 A society that focuses on natural pigments where its natural aura (aroma) could be felt in the form of mineral pigment in Japan, and on conveying its significance from the perspective of its appealing characteristics, the grinding process and material properties with the integration of arts and sciences to the rest of the world.
 Greetings
On 10th July 2021, the Society for the Study of Natural Pigments and the Grinding Process Using Stones from Mount Fuji (NPO) held its first meeting at the Kensetsuryo Dormitory, Nirasaki Omura Art Museum. Subsequently, an application to register as an official non-profit organisation was submitted at Yamanashi Prefecture and was approved on 17th September 2021. Members of experts and specialists from various fields; art, craft, engineering, Earth science and more have joined us. Here, we took the initiative to organise various video conferences, online seminars, exhibitions, lectures, etc where our main focus are the topics of "natural pigments" and "the grinding process" which marked the start of the primitive ages. We highly regard SDGs (Sustainable Development Goals) adopted by the United Nations so we are looking forward to contributing our effort in achieving these goals together.
Aim of Society
This society aims to raise awareness of natural pigments and the grinding technology involved to the general public.
At the start, we studied the methods of creating and controlling the production of natural pigment from "scrapped pieces of processed lava" from one of the famous peaks in Japan,Mount Fuji via various grinding technologies. The produced natural pigment is not only applicable to painting but also crafts where we believe could be included in many aspects of our daily lives. We are working to expand its possibility in different applications which would further enrich our hearts and minds.
With high regards to SDGs mission and to accomplish this goal, we organise seminars, lectures, exhibitions together with related studies involving artists and researchers.
Through this, the knowledge of natural pigment and the grinding process gained is not only limited to the people in Japan, but could be spread widely across the world.


 Purpose of establishment
Natural pigment used in art and crafts which is generally forgotten by the world has the allure of what is known as "mono no aware" in Japan.
With the integration of advanced powder technology and powder engineering, we aim to measure the effective use of raw materials including sewage sludge. This environmentally friendly new type of natural pigment which also could be known as the "Renaissance of Natural Pigment" could be widely circulated around the world.
This endeavor is proved possible with the collective collaboration of Kiseki Museum of World Stones, Joshibi Textile Cultural Resources, Professor Makio Naito and Research Group from the Joining and Welding Research Institute of Osaka University, Joint Research Group of Joshibi University of Art and Design, and the Society of Powder Technology of Japan in organising "Workshops focusing on Art and Powder Engineering'' and conducting related studies. The new found appealing quality of such natural pigment will lead us to the development of new places and to solve the issues stated in SDGs.
Thus, we believe it is essential to organise events for raising the public's awareness on this type of natural pigment and its possible application to resolve such issues. This would include implementing proper control of the production of natural pigments with advanced powder technology. Produced natural pigment is applied not only to painting but to crafts making, which is essentially a major aspect of our daily lives. This will further enrich our hearts and minds.
The grinding process and powder technology which began as a primitive act of mankind, and the exploration of colours of nature connects us to the world. This calls for the raising awareness of such natural pigment on a global scale. What we have discovered about the making of natural pigment and grinding from a rock from Mount Fuji, we will continue to enlighten others about this significant finding. This is achieved by organising seminars, lectures, online classes, exhibition, research supporting activities via related organisations to worldwide audiences.

*Most of these activities are based in Japan. Those who are interested could participate by subscribing with a fee to be a member of our Society or by exchanging an artwork (letter) to participate in the Natural Pigments Festival.
Please refer to the "Activities for the World" for more information.